Lawn & Garden -
What's New in the Demo Garden for November
Fall brings garden clean up and a crisp walkway of fallen leaves to the newer wooded area of our garden. Our Rutgers Master Gardener volunteers can still be found in all areas of the garden on Monday mornings as they are busy getting the entire area ready for a long winter nap. Happy Fall everyone!
View the Demo Garden Photo Album.
Native Plants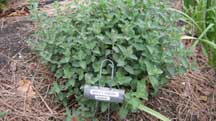 Catmint
Botanically known as Nepeta x faassenii, Catmint is a low growing ground cover that is also drought tolerant. This perennial works well in rock gardens, borders, and as an edging. Plant in full-sun to part-shade. Hardy to zones 3-8. Bloom time: early summer to early fall; depending on variety. Height: 1 to 2 feet. Spread: 1-3 feet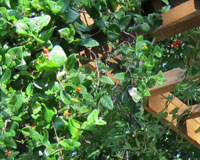 Coral Honeysuckle
In this picture you will notice an arbor which was built by one of our Master Gardeners who is no longer with us, Vin Thoms. Growing up the sides of the arbor you will find Coral Honeysuckle, Lonicera sempervirens. The coral honeysuckle is a native plant to our area and is attractive to bees, butterflies, and hummingbirds. This plant blooms red, requires sun to part shade and will reach 12 to 15 feet.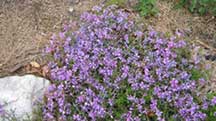 Creeping Phlox
Phlox subulata is a groundcover that has tiny needlelike, evergreen leaves. They bloom pink, white, rose, or lavender flowers in early spring. Tolerates some drought once established. Hardy in zones 3-9. Grow in full sun. Deer resistant.
Variegated Solomon's Seal
Variegated Solomon's Seal, known botanically as Polygonatum odoratum Variegatum, is a well-behaved addition that adds seasonal interest with foliage and flowers. The bright green foliage edged with white reaches 8 to 24 inches tall and spreads by rhizomes to form small colonies. In late spring white, bell-shaped flowers appear in pairs underneath the arching stems and release a delicate fragrance. In fall the foliage turns a lovely yellow. Zone: 3 to 8 Bloom Time: April to May Sun: Part shade to full shade Water: Medium to wet Tolerates: Drought, Heavy Shade, Erosion, Dry Soil, Wet Soil Variegated Solomon's seal thrives best in part shade but adapts well to full shade. Like many shade-loving perennials, it prefers moist, well-drained soil. But the plant is otherwise non-demanding, with few insect or disease problems. The shallow rhizomes are easily transplanted and divided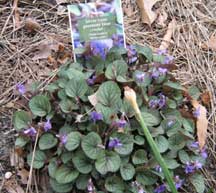 Viola walteri 'Silver Gem'
This beautiful addition comes from the gardens at Mt. Cuba. It is a multi-stemmed perennial with silvery, heart-shaped leaves and dainty lavender flowers. Great native ground cover. Hardy in zones 6-8. Grows 3-5" tall. Plant in partial to full-shade in well-drained soil. Drought tolerant once established.